Nowadays, a lot of eshops offer a selection of bridesmaid dresses. It's then difficult to know where to start and you often end up in hours and hours of looking for the perfect dress on the web (true story). So here's a selection of the best eshops to find your bridesmaid dress for this special day!
For a huge selection of bridesmaid dress
SHOW ME YOUR MUMU
Show Me Your Mumu has a big selection of bridesmaid dresses each offered in different colors and with an important size range. They also offer shoes that will fit with your dress to get this perfect look! Moreover, they have outfits for the best men for your perfect partner!
The only drawback is that most of the colors are pastels so not for all the weddings.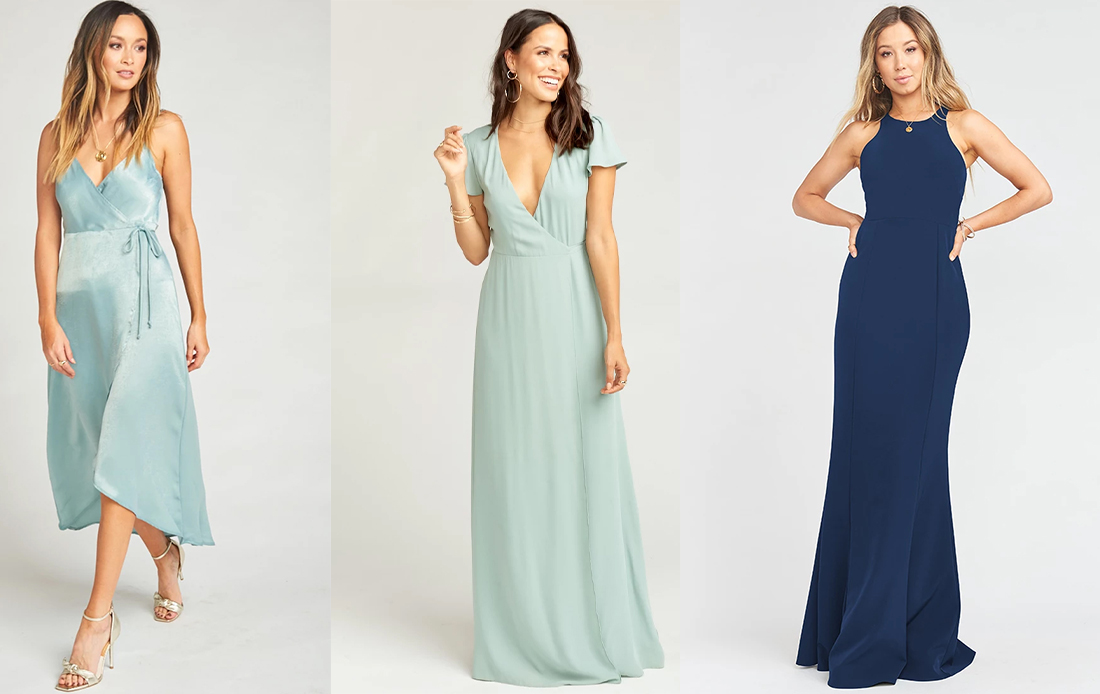 Source: Show Me Your Mumu
Price range: $90-$300
Size range: XXS-XXXL + A huge selection of maternity gowns
DESSY
Dessy is a big eshop totally focused on bridesmaid dresses. One of the great things about Dessy is that they have really precise research criteria (colors, sleeves, silhouette, back style and more) so you can directly choose the ones the bride asked and you will have a great selection just for you.
One thing you should consider when choosing Dessy is that most of the dresses are not in stock. So, most of the time they will ask you 9-10 weeks for delivery.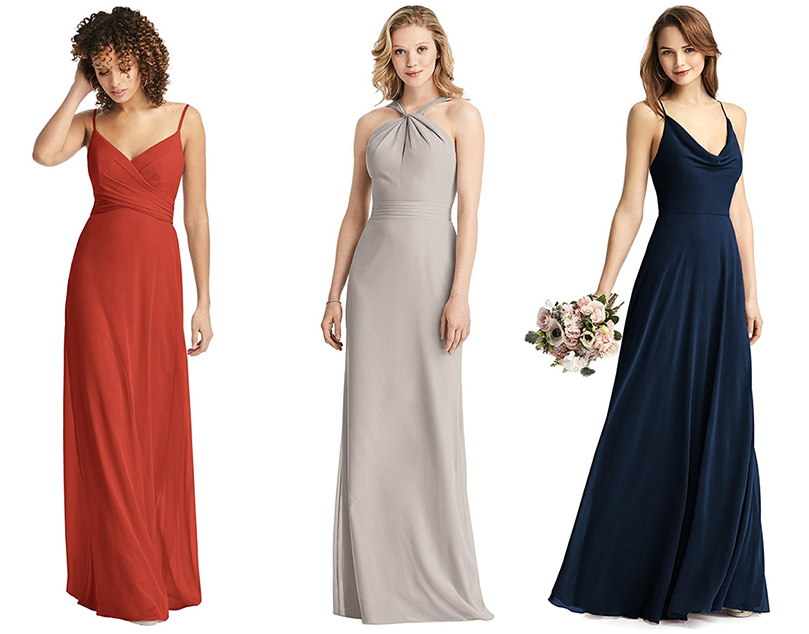 Source: Dessy Group
Price range: $119-$320
Size range: 0-18 + Maternity
ADRIANNA PAPELL
Adrianna Papell dresses definitely have a glamorous and retro style!
With a huge selection of sequin gowns and a wide range of size, you can be sure that you will find something you that fits you perfectly!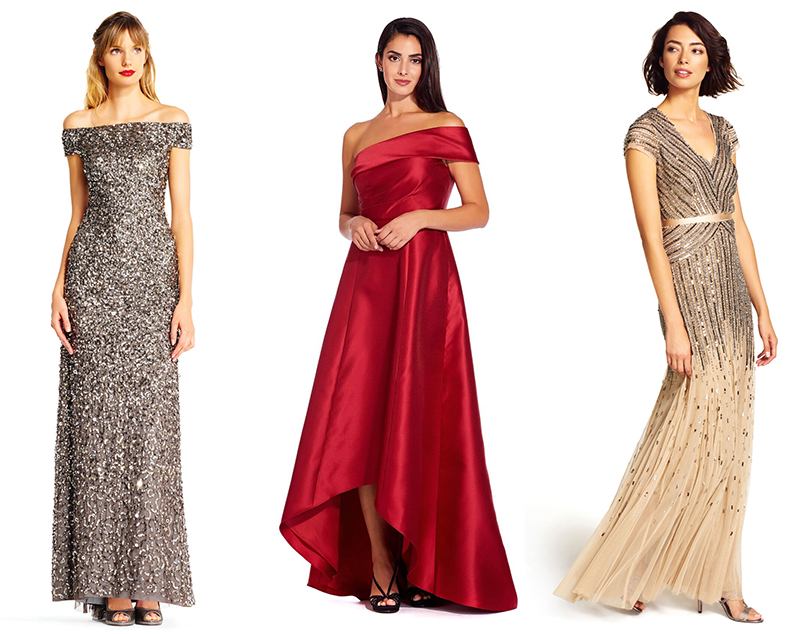 Source: Adrianna Papell
Price range: $129-$379
Size range: 00-30
For that high-end look
BHLDN
BHLDN is an eshop that is all about wedding clothes and accessories. They have their own brand but also sell other brands such as the beautiful dresses of Jenny Yoo with incredibly deep colors. Definitely a place to check for a high-end look.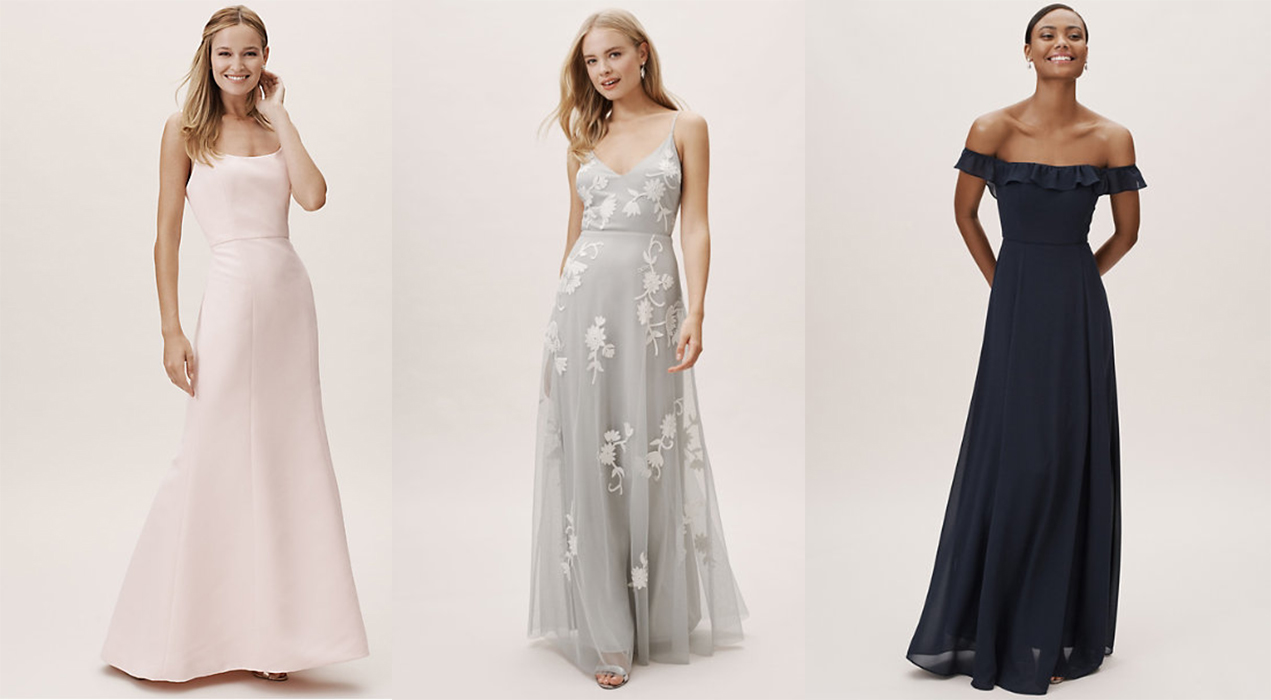 Source: BHLDN
Price range: $150-$325
Size range: 0-26 + Maternity
REVOLVE
If you are looking for dresses that look both high end and sexy, Revolve might be the answer. The eshop developed a section for bridesmaid dresses. Not a huge choice especially if you need a specific color but the gowns are magnificent!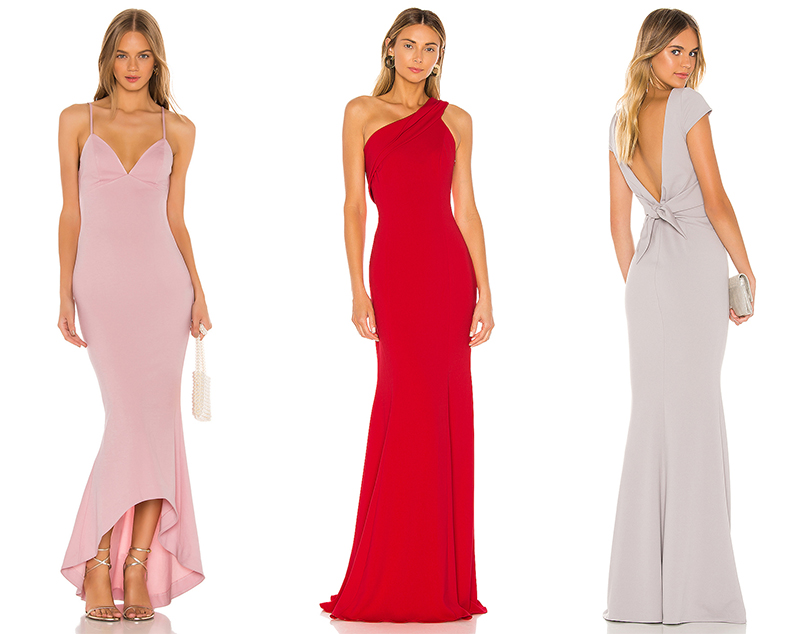 Source: Revolve
Price range: $150-$1000
Size range: XXS-XL (No maternity gowns for the moment)
REFORMATION
Reformation definitely has a much smaller selection for bridesmaids than all these other websites but the dresses are just wow. So, definitely worth having a look at this eshop!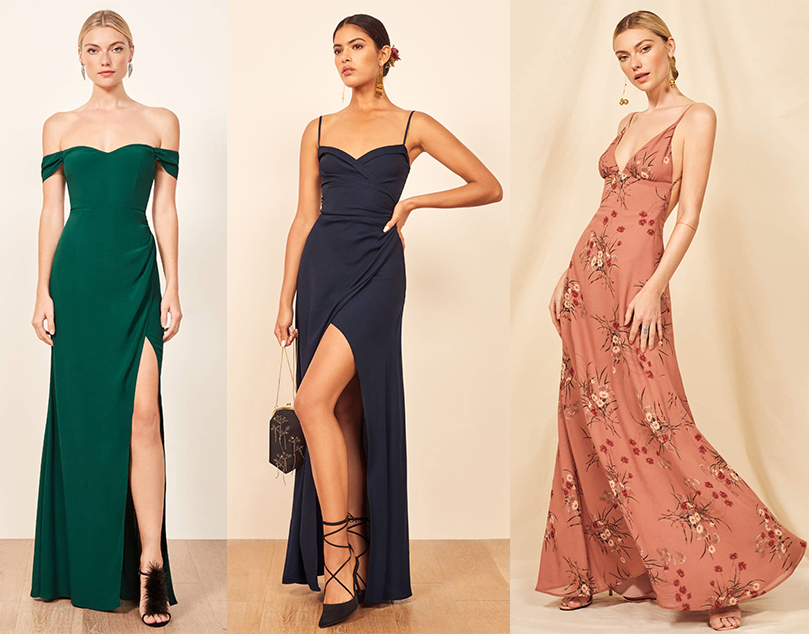 Source: Reformation
Price range: $285-$490
Size range: 0-12 (No maternity gowns for the moment)
JENNY YOO
Looking for romantic gowns with a perfect fit? Look no further! Jenny Yoo definitely has this romantic vibe and the gowns are just incredibly beautiful!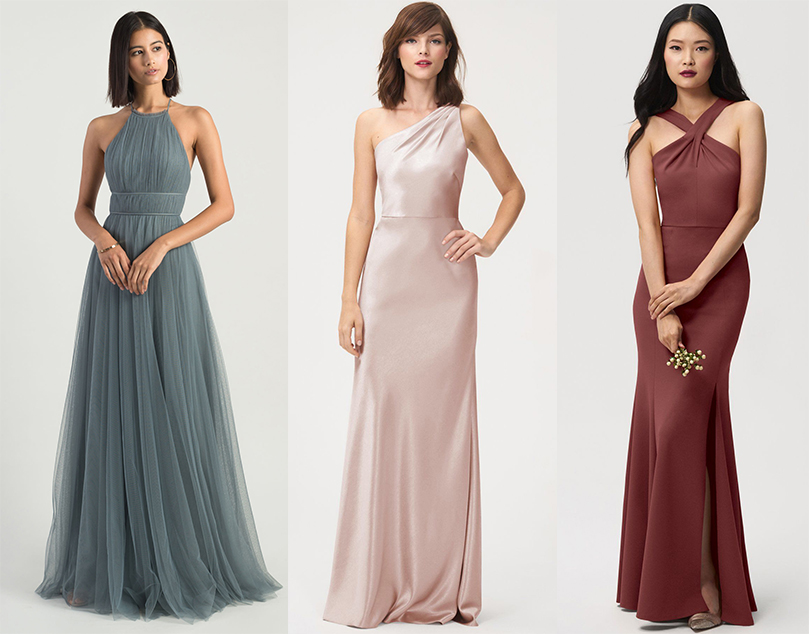 Source: Jenny Yoo
Price range: $260-$310
Size range: 0-16 (No maternity gowns for the moment)
Bridesmaid dress for a smaller budget
ASOS
Asos launched a bridesmaid section with really nice and affordable dresses. Great for the ones who want a dress for less than 100$.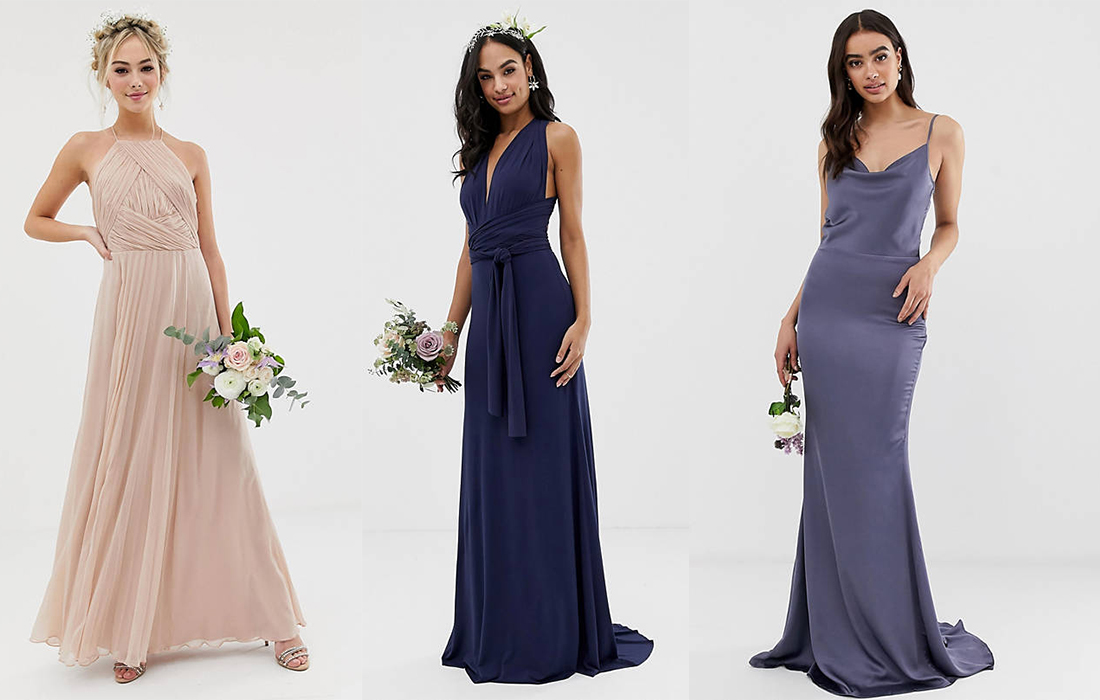 Source: Asos
Price range: $42-$237
Size range: 00-24 + Maternity dresses
BIRDY GREY
Birdy Grey is definitely a great choice for smaller budgets. All their dresses are at $99 and some of them have a discount so you can get one of their dresses for $59 which is a really good deal. They have a large choice of colors and styles but only long dresses!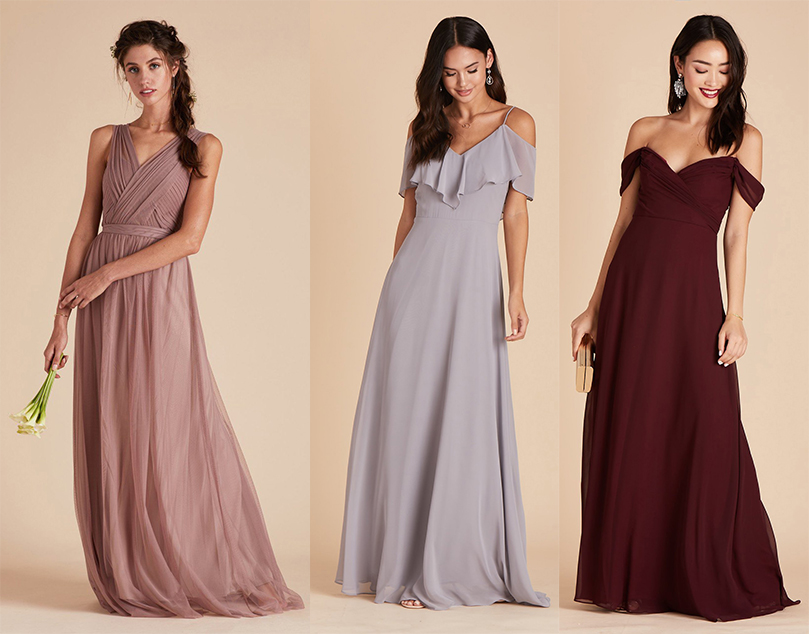 Source: Birdy Grey
Price range: $59-$99
Size range: XS-3XL + Maternity dresses
RENT THE RUNWAY
Don't want to pay too much for your bridesmaid gown as you think you will never wear it again? Rent the Runway might be an option for you! The website offers to rent your gown for 4 days and then send it back. This might be a great way to decrease the bridesmaid budget. For example, a $285 Jenny Yoo gown can be rented for $45. Yep, that's a good deal.
Another positive point? On the page of each dress, you can see pictures and opinions of people who wore that dress. Great to have a better idea of how it will fit because yes not everyone has the same body as the model…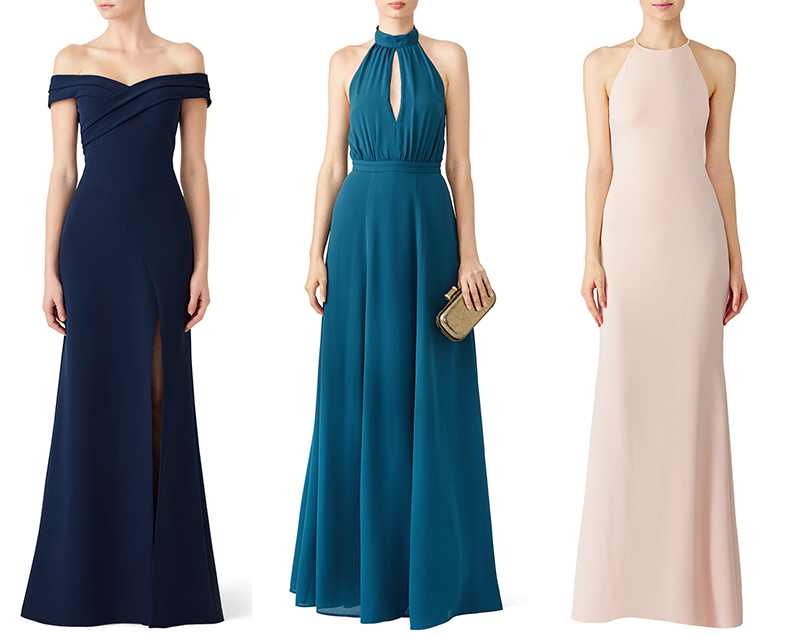 Source: Rent The Runway
Price range: $30-$525 (Only a few dresses are that expensive. It's only if, you know… You really want to get luxurious!)
Size range: 00-22 + Maternity dresses
For made to order bridesmaid dress
FAME AND PARTNERS
Fame and Partners offers a large choice of made to order dresses. You can then customize your dress by choosing the color, neckline, length of the dress… So this website is really great if the bride asked for a specific color but the bridesmaids want different types of dresses. Also, last positive point, when ordering a dress at Fame and Partners they ask you your height, meaning that even the taller girls will have a perfect fit!
Just check that you have enough time to order a dress from Fame and Partners because made to order also means longer lead time. Depending on the dress you want it might take from 1 to 7 weeks to get your gown.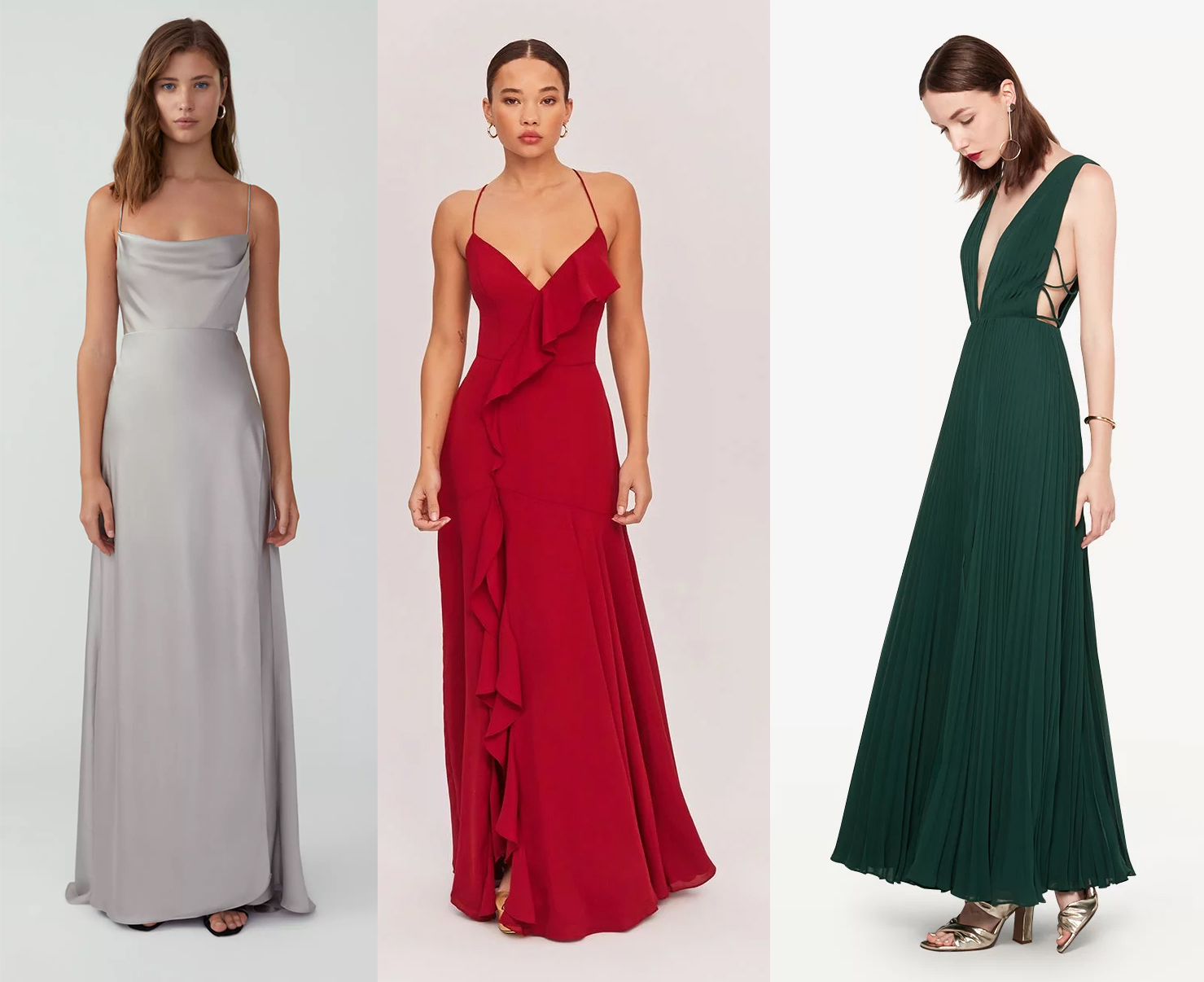 Source: Fame and Partners
Price range: $179-$349
Size range: 0-22 (No maternity gowns for the moment)