You want everything to be just as planned on your wedding day. Sometimes something unexpected might happen and it's always better to have everything to fix it right away. So, having a wedding day emergency kit might be a lifesaver.
That is why we made the ultimate list of everything you need to have in your wedding day emergency kit.
Wedding day emergency kit lists are long. So, as we don't want your emergency kit to be messy and we want you to be able to find each product really quickly, we divided this list into 3 parts: to look good, to feel good, and for the perfect makeup/beauty all day long. This way you'll be able to separate them, and find what you need in seconds!
To look good
Sewing kit
We never want this to happen, but on your d-day, you might find out that you have a problem with the zipper of your dress and having a sewing kit will definitely help you to tackle this problem in seconds!
Fashion tape
Fashion tape is so useful! Not only for your wedding day. You just have to tape your dress to your skin and you will be able to move freely without being stressed about your dress showing too much skin. This is particularly useful for revealing necklines.
Stain remover pen
You will enjoy your wedding day. And that's the best thing to do! Wedding days are full of life so just be prepared in case of a red wine stain for example. A stain remover pen will help you remove it quickly.
Sunscreen
This is a quite common problem. Weddings most of the time happen on sunny days (and that's great). But it might also mean that you might get sunburned. As this is not something you want to happen do add some sunscreen in your wedding day emergency kit. If you need to apply sunscreen, don't forget the important parts: face, neck, shoulders, neckline, back, and arms. This way you'll stay safe!
Safety pins
Brides often lose some weight just before their wedding. So, it's better to have some safety pins in case sewing is not an option. Also, if you need to bustle your dress so that you don't get your train dirty a safety pin is really great.
Clear Nail Polish
If you wear tights on your wedding day, you need this! An easy way to fix a run in your tights is to apply some clear nail polish on the run.
To feel good
Snacks
Wedding days are usually quite long and you might get hungry at some point. Sometimes, being hungry might make you feel stressed, ill or just not in a good mood. This is definitely not something you want to happen on your wedding day. So, plan some snacks like granola bars or nuts to be able to fully enjoy your wedding day.
Mints / Floss
During your wedding day, you will talk with a lot of people and you will have your first kiss with your husband. So, you definitely don't want to have bad breath. A good idea would then be to have mints in your wedding day emergency kit just in case. Also, do plan to have something to floss as you don't want to have some salad in your teeth on the photos.
Deodorant
One of the first items you should include! You might spend the night dancing and most weddings take place during the summer or spring so you will sweat. So, get deodorant in your wedding day emergency kit.
Water bottles
You will have water at your reception. But if you need water during transportation or just before taking pictures with your guests, it is always good to have a water bottle available. Also, as we already said, your wedding might happen while high temperatures and this is a day where you'll have to move a lot. So, it is really important to stay hydrated to fully enjoy your day and to look good!
Tampons
We never want this to happen on our wedding day but it's better to plan for it just in case. So, do add some tampons in your bridal emergency kit. This might definitely change your day.
Pain reliever / Allergy medicine
You want to be able to fully enjoy your special day. So, do not let a headache get in your way! So, do prepare your favorite pain reliever. If you do have allergies, also put your allergy medicine in your bridal emergency kit.
Blister Plasters
First of all, we do recommend you to wear comfortable shoes for your wedding. But if your feet start to be painful or you feel a blister coming do get those blister plasters! This will help you enjoy all night long!
Phone charger and external battery
During your wedding day, you might want to take pictures or just call your loved ones to coordinate everyone. So, in this case, having a phone charger will be really useful! Also, you might discover that your venue doesn't have that many electrical outlets (remember they are often old venues). In this case, having a charged external battery will be a great help.
First aid kit
Do plan to have a first aid kit for your wedding day. This might help you or one of your guests (who will be really thankful).
For the perfect makeup/beauty all day long
Straws
You might get thirsty just after having your makeup done. Having a straw will help you save your lipstick while still being hydrated.
Nail polish
You want your nail polish to be perfect for the ring pictures! So, having your nail polish in your wedding day emergency kit will help you make some retouching if necessary. Also, if you're wondering what shade of nail polish to choose for your wedding, here is a blog post to help you!
Lipstick
Even if you use a straw, you will need to eat at one point. So you need to have your lipstick in your wedding day emergency kit to be pictures ready all day long.
Blotting Papers
It might be a long day and you want to look good at any time. So having blotting papers will help you in case of sweat or oily skin. This will definitely be a great thing to have for some touchups.
Handkerchief
For sure it's always good to have some tissues in case of tears (which is quite common for a wedding). But what we would advise is to have a beautiful silk or cotton handkerchief. Here is the point: happy tears usually happen during the ceremony and this is the moment when you'll get photographed. So, to make these photographs look better it is always better to have beautiful tissues in your wedding day emergency kit.
Hairspray / Hairbrush / Bobby pins
Just like for makeup, your hair might not stay perfect all day long just like that. So, you might need to do some hair touchups. For that purpose, hairspray will be your ally. Also, a hairbrush will help you to restyle your hair before fixing them. Bobby pins will help you structure your hairstyle and get rebellious hair in place.
Mirror
Because the touchups might need to happen anywhere, add a small mirror in your wedding day emergency kit to be ready at any time.
Makeup remover / Q-tips
The reason might be happy tears or sweat but your makeup might run at some point. So, in this case, makeup remover and q-tips will be extremely helpful.
Your makeup
If having some of your makeup removed or if it ran, you will be really happy to have your makeup with you like mascara, foundation, and eyeshadows.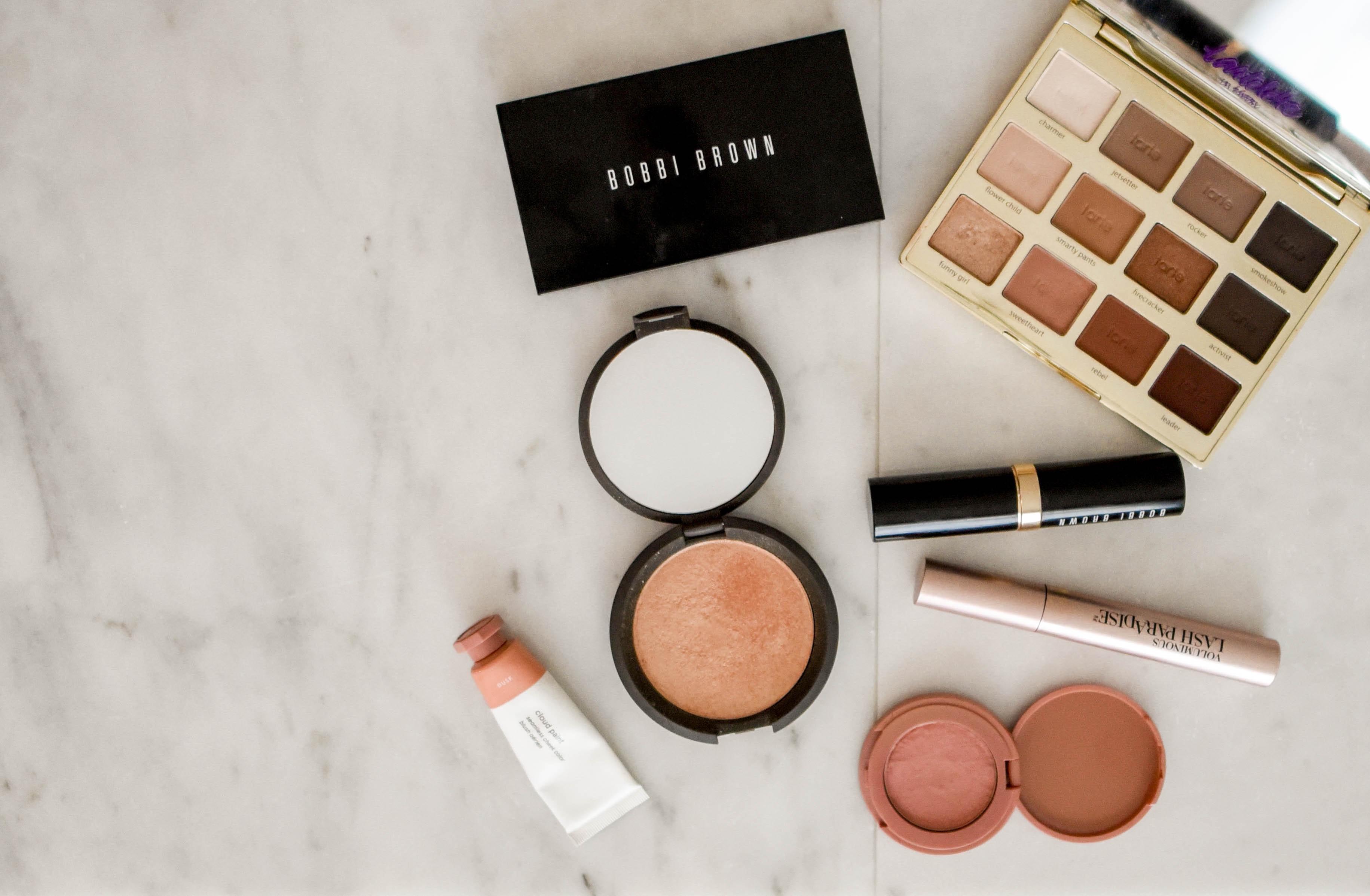 This is the end of this list. I hope that this wedding day emergency kit will help you fully enjoy your special day!
If you have any questions, do not hesitate to ask them in the comments section.