Your bridesmaids are always by your side on your wedding day. They can help you plan everything, solve problems, and reassure you when you get stressed.
So, if you want to say thank you, here is a selection of really great personalized bridesmaid proposal gifts from Etsy.
And as you want gifts that they will love, this selection only contains gifts that they will really use!
For relaxed bridesmaids
Your bridesmaid will need to be there for you on your special day. It can sometimes be stressful for them as they might have to run everywhere all day long.
So, a great way to thank them is to help them relax!
LitteFlowerSoapCo offers bridesmaids kit with relaxing bath salt and a scented candle.
After a big wedding day, what better way to relax than with a good hot bath and the smell of a scented candle?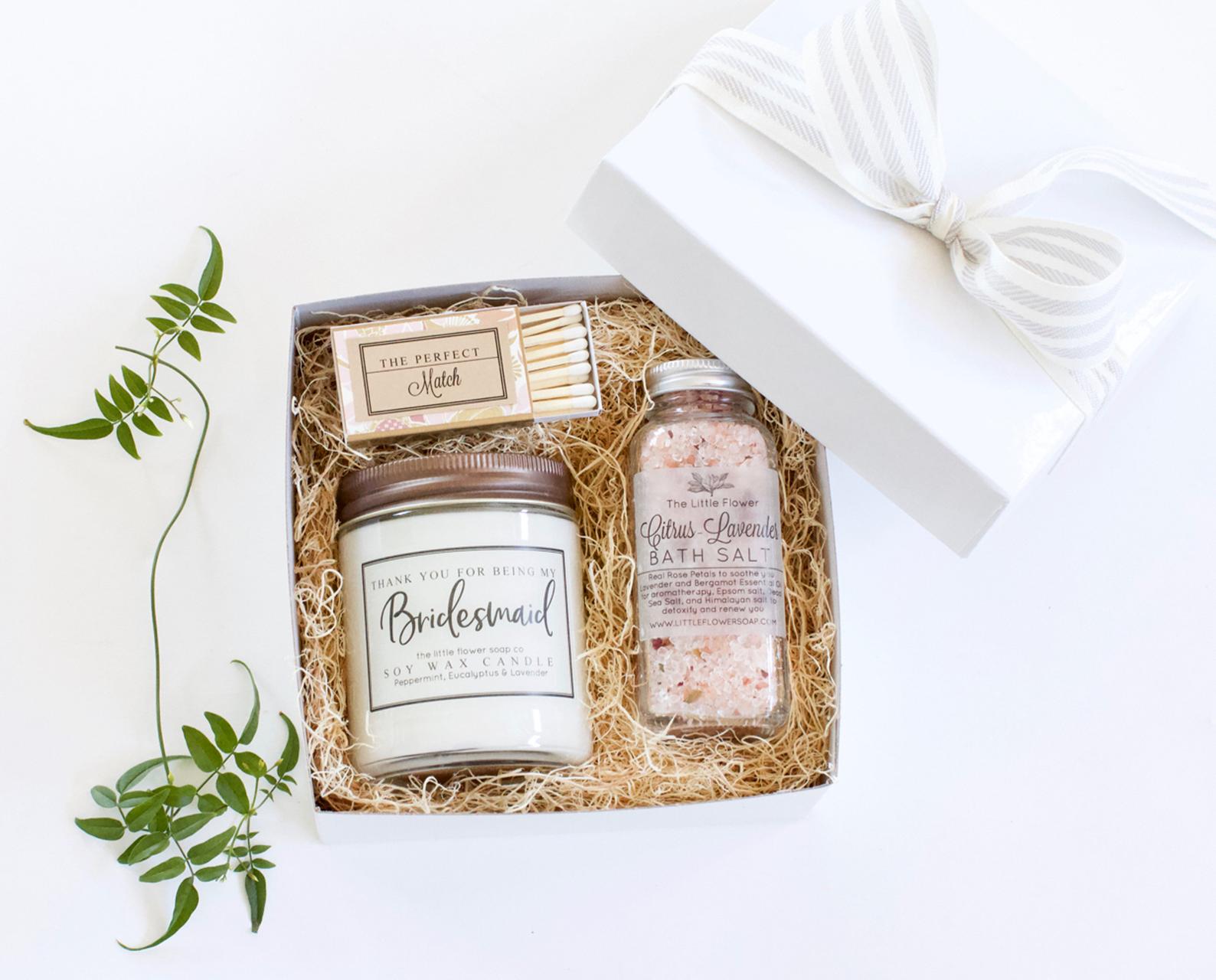 Another great way to help your bridesmaids relax is by allowing them to have a great sleep! So, why not choose sleep masks as one of your personalized bridesmaid proposal gifts?
These personalized satin sleep masks from ThreeTwo1 come with an adjustable strap for a perfect fit!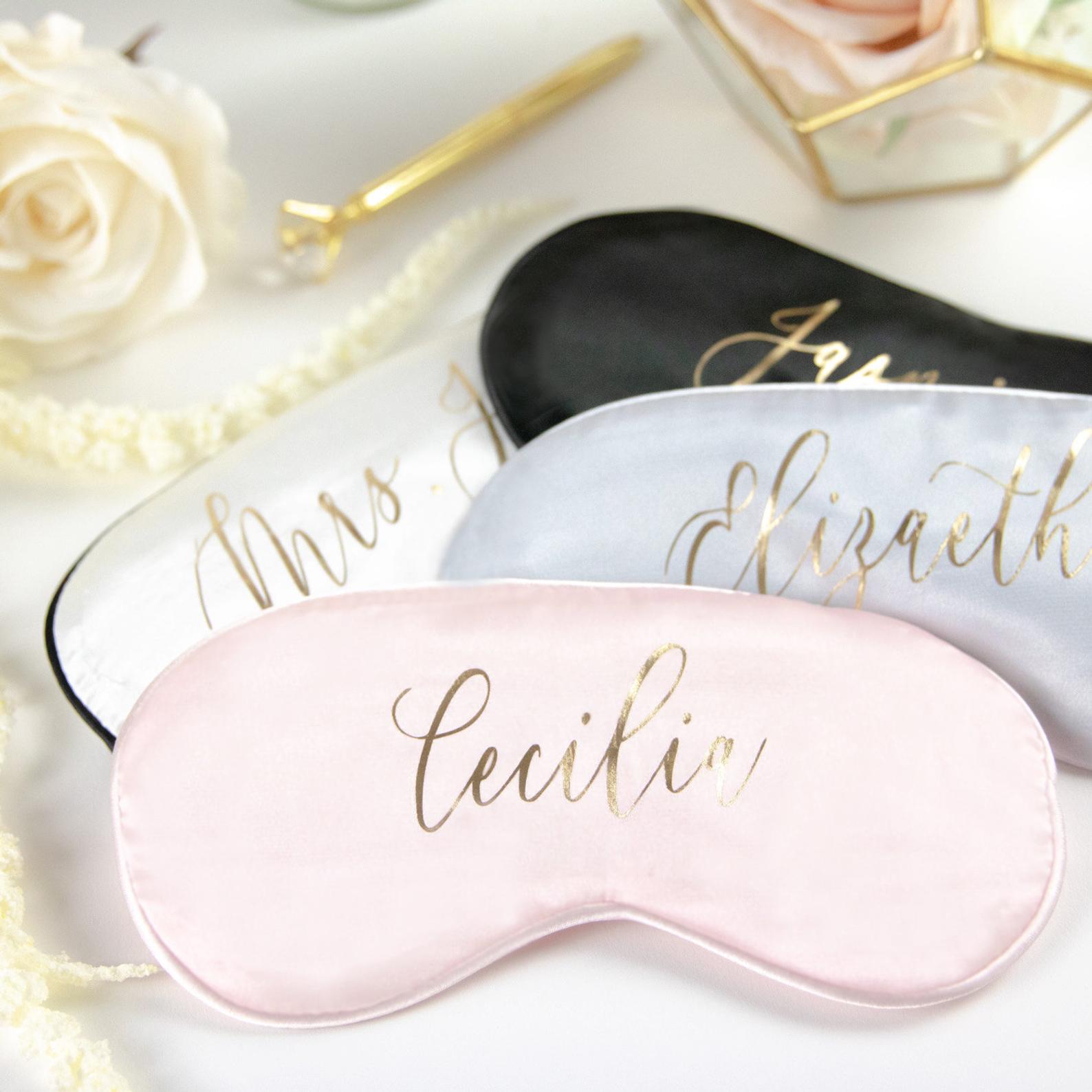 For a destination wedding
You're gonna have a destination wedding and you and your bridesmaids will have to travel for your big day? Then, what better way to announce them than by having personalized bridesmaid proposal gifts related to travel?
ConfettiMommaParty offers beautiful travel jewelry cases that you can personalize with your bridesmaids' initials. A perfect present to store their bridesmaids' jewelry set!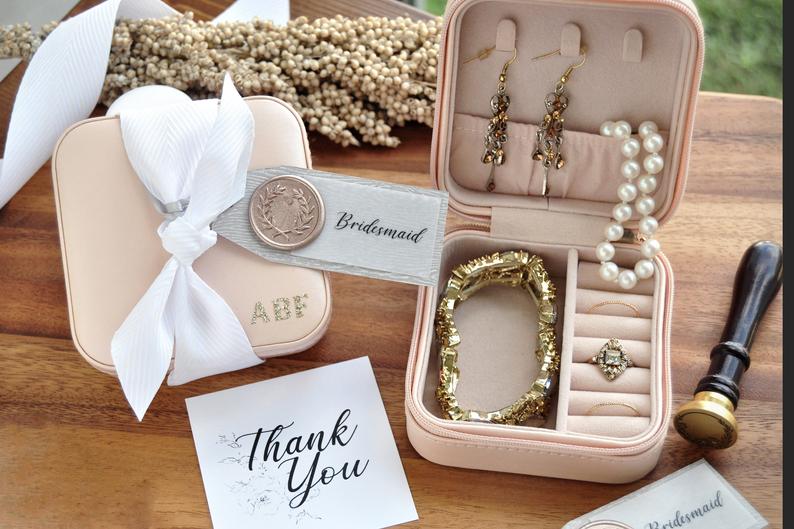 A second great gift for your destination wedding bridesmaids is this beautiful passport holder set from LizzieLaneBoutique.
A gorgeous manner to get ready to travel!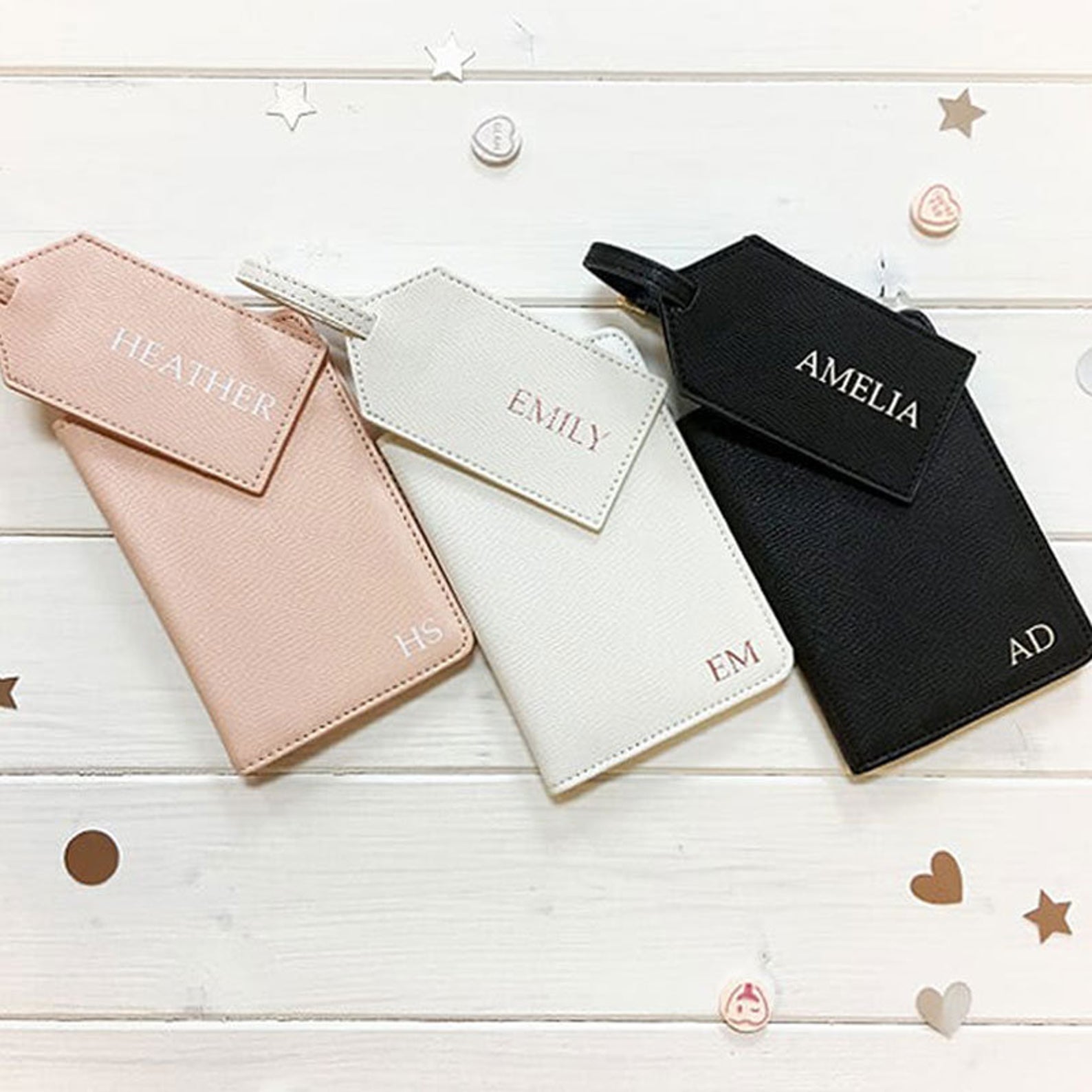 For the jewelry lovers
Offering jewelry to your bridesmaids means that they might always have a memory of you with them.
What better way to ask your bridesmaids to help tie the knot than with rose gold dipped knots?
This earrings and bracelet set from ProjectDahlia is for sure an elegant gift your bridesmaids will love!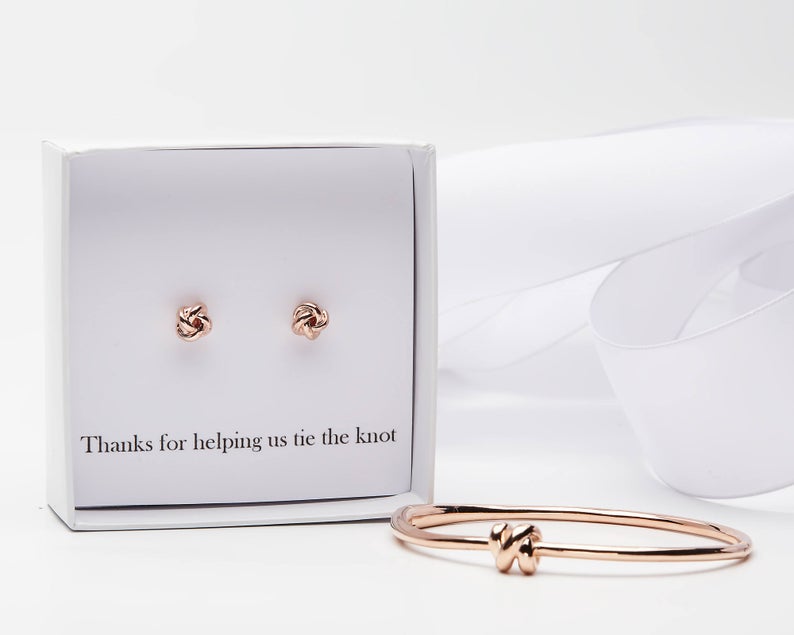 If you want a totally personalized gift for your bridesmaids this might be the perfect one for them! TomDesign offers beautiful birthstone necklaces and all the gemstones look absolutely stunning so no jealous! For example, the March birthstone is aquamarine.
Each stone is unique in its size and shape. So, what better way to make your bridesmaids feel unique?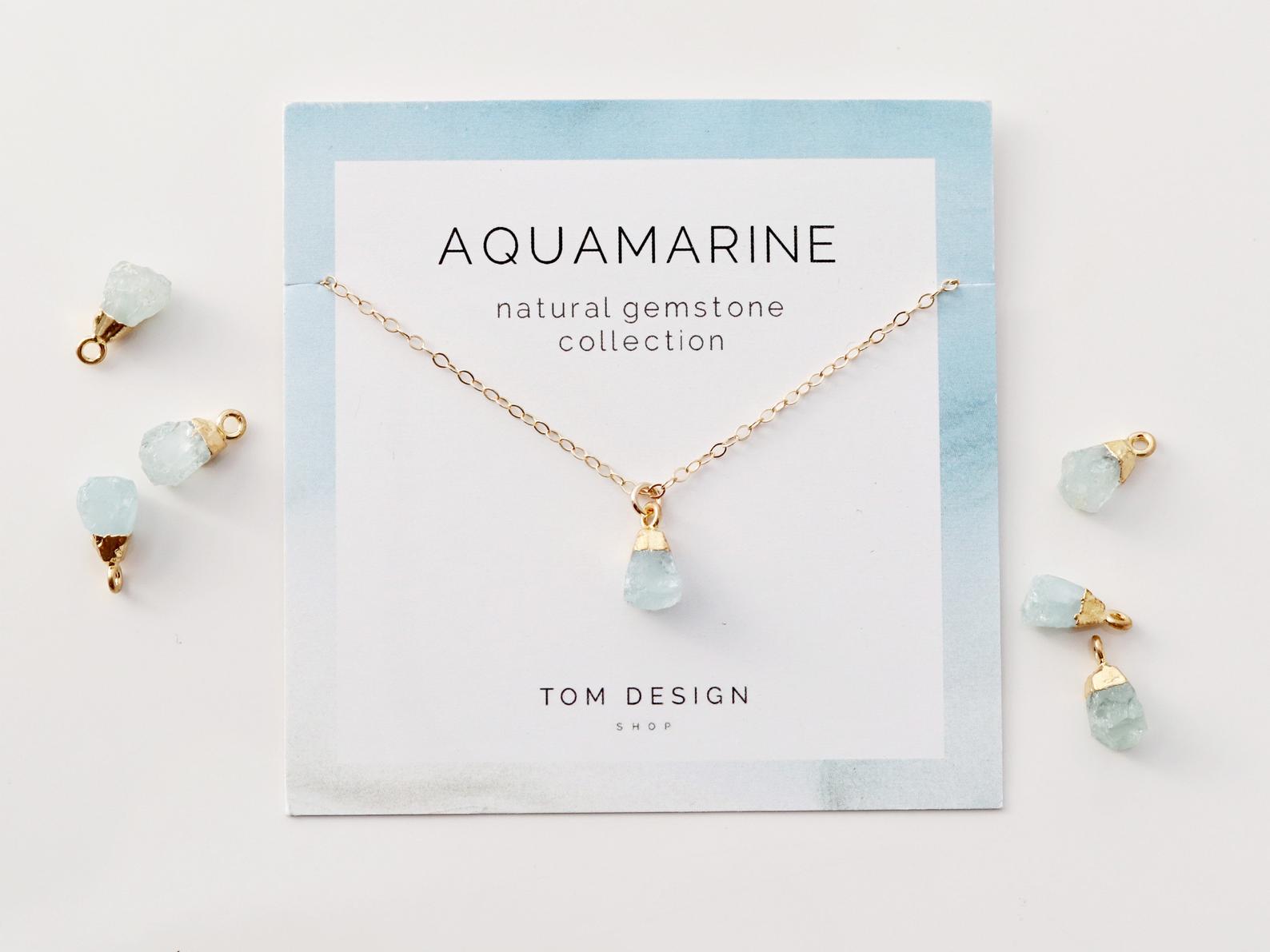 For the fashion addicts
If you are looking for personalized bridesmaid proposal gifts that your girls will love to wear, this is for you!
LullasBoutique has a choice of stunning clutch bags! Just look at all the beautiful colors available. You can then add the initials of your bridesmaids on these clutches. Definitely one of the best gifts to feel luxurious!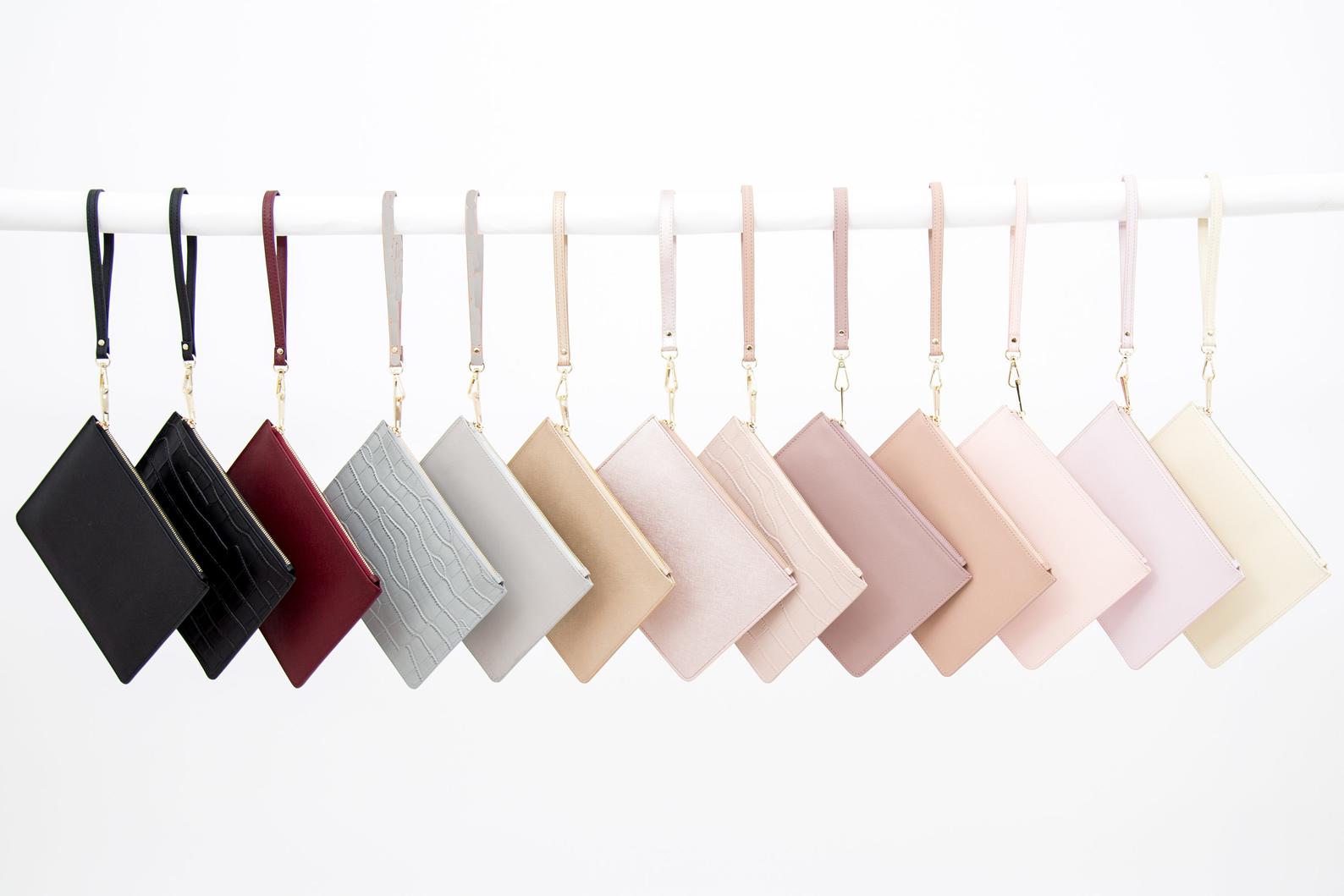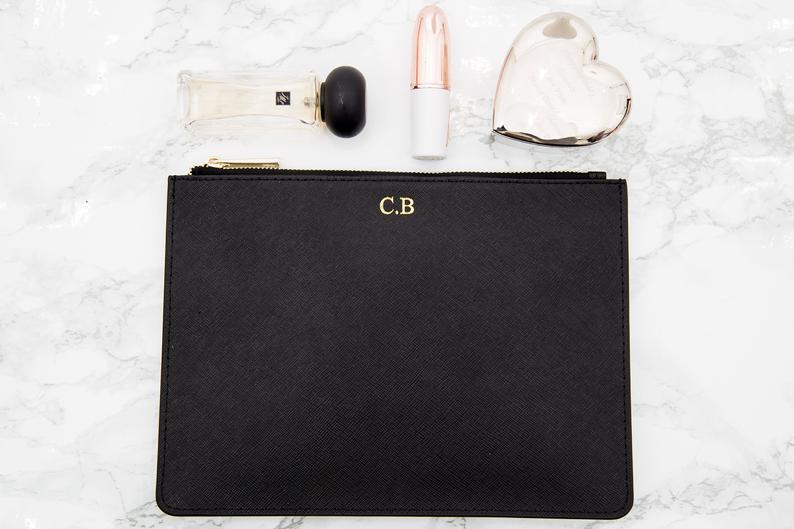 We are all used to bridesmaid robes. But will your bridesmaids really wear them again after your wedding? Not sure.
So, an alternative is this beautiful satin pajama from LuvYou3000. It is much easier to wear and looks really beautiful.
You can personalize this pajama with the name of your bridesmaids.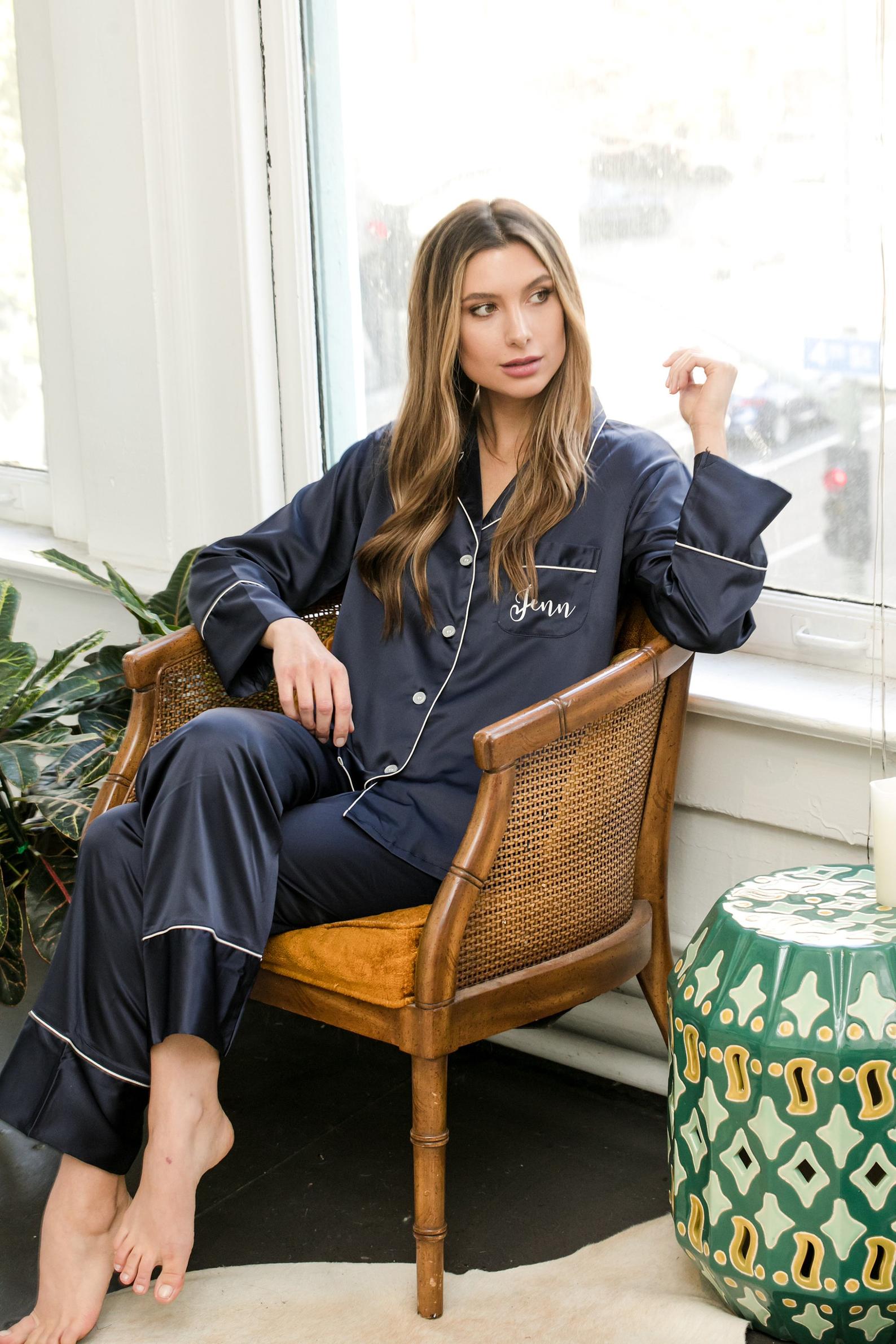 For the wine lovers!
You will "propose" to your bridesmaids during your bridal shower? Then, choose some wine-related gifts to be ready to celebrate.
If your bridesmaids love wine, choose their favorite bottle and buy this beautiful wine label from LabelWithLove. This way they will have a totally bespoke wine bottle.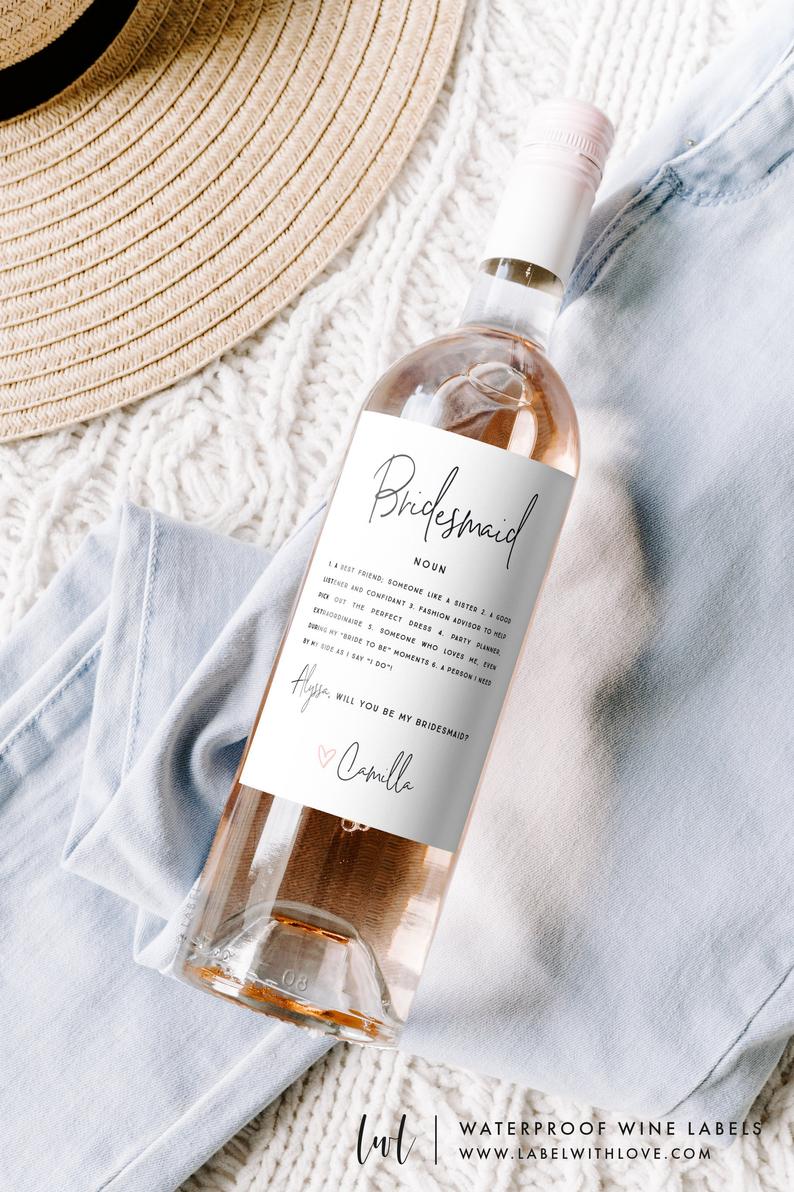 Your bridesmaids have a sweet tooth? They also like rosé wine? Then this is a gift for them! SweetCarolineConfect makes lollipops that are so stunning that you might wonder if you should eat them or contemplate them! Hint: Apparently they taste great…

For beautiful memories
If you ask your best girls to be your bridesmaids, it might mean that you shared some beautiful moments together.
Then, a beautiful and emotional gift would be to offer this personalized picture frame from BlueRidgeMountainCo and to insert a picture of you and your bridesmaid.
You can personalize the frame with your names and some sweet words…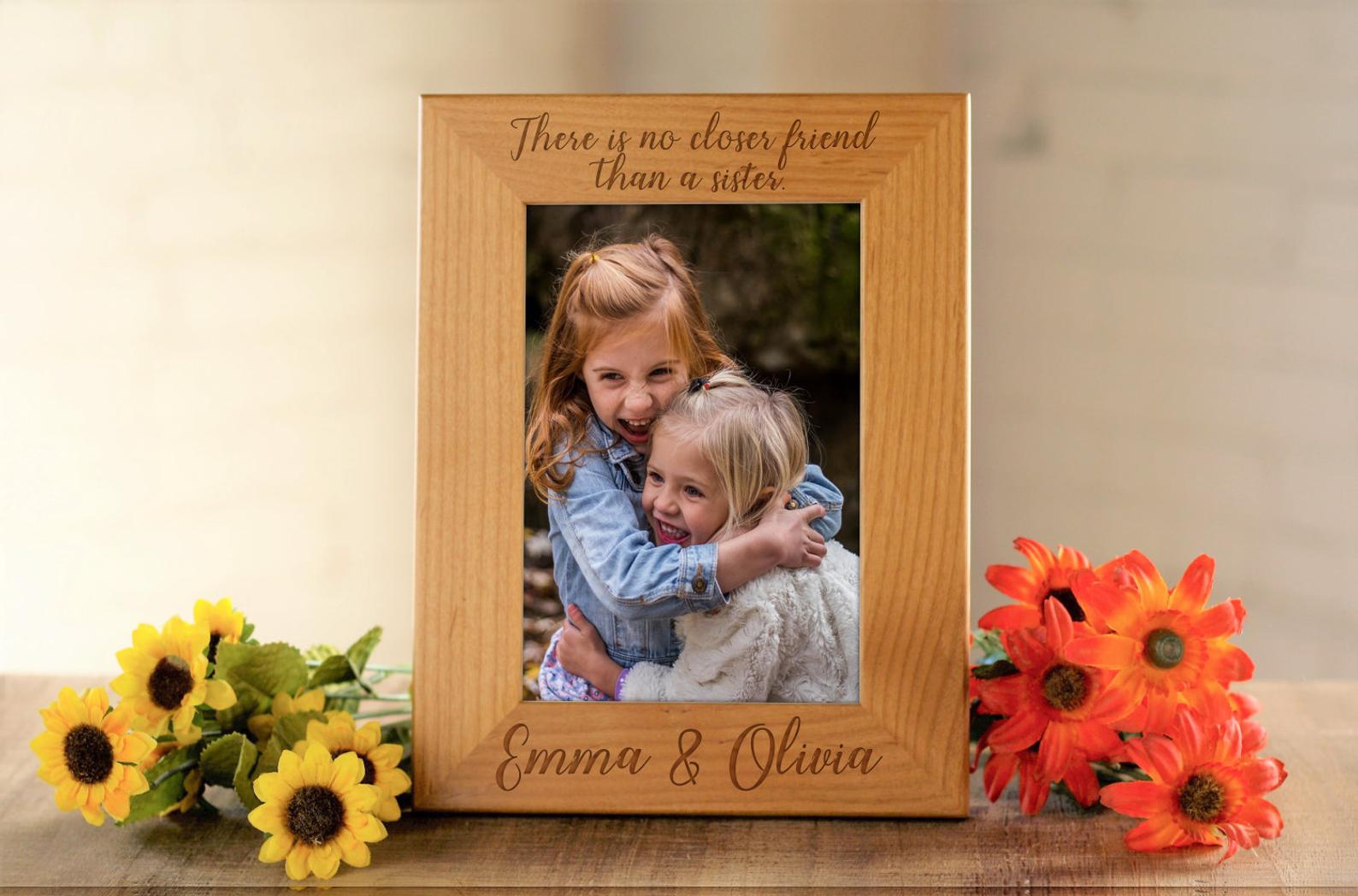 Small accessories
Looking for some smaller gifts that your bridesmaids will definitely use? Then this part is for you!
These hair tie scrunchies from SymbolicImports might look like a really simple gift. But they are so useful! Plus these ones are really cute!
If you always have scrunchies on your wrist and your bridesmaids do the same thing then you can also see this as a friendship bracelet!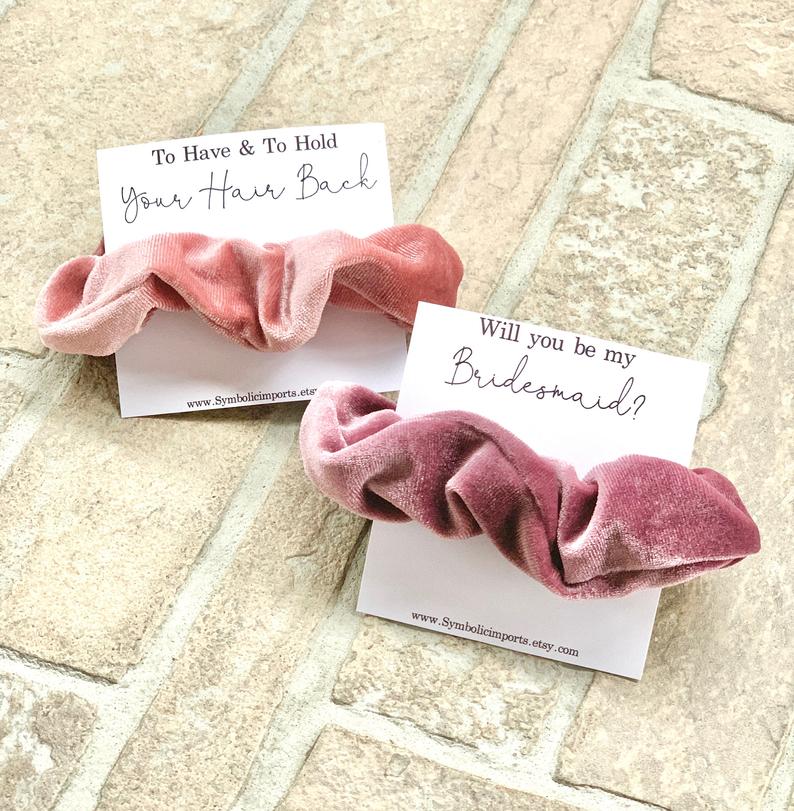 Once again, something really simple but really useful! How many times did my girlfriends ask me if I had a mirror when going out? A lot!
ThreeTwo1 has a beautiful selection of compact mirror that you can personalize with your bridesmaids' names.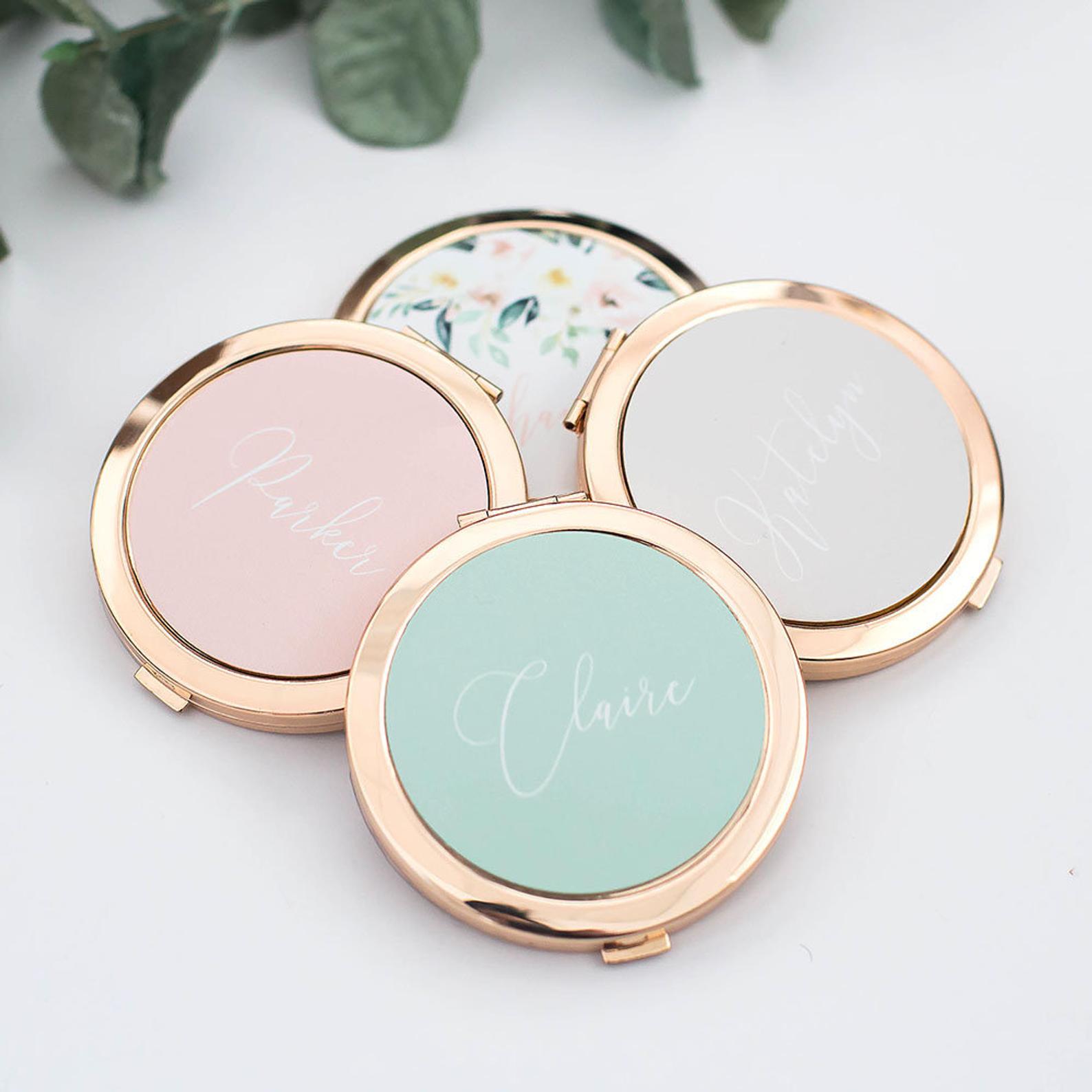 To write some sweet words
Thanking your bridesmaid for always being there is also a kind attention to incorporate in your personalized bridesmaid proposal gifts.
FoxesOnBoxes offers really creative and personalized cards. Yes, you can choose the sentence that is written on the card. But you can also do so much more!
You can choose the hair color, hairstyle, dress and skin tone for you and your bridesmaid!
This makes your thank you card so unique!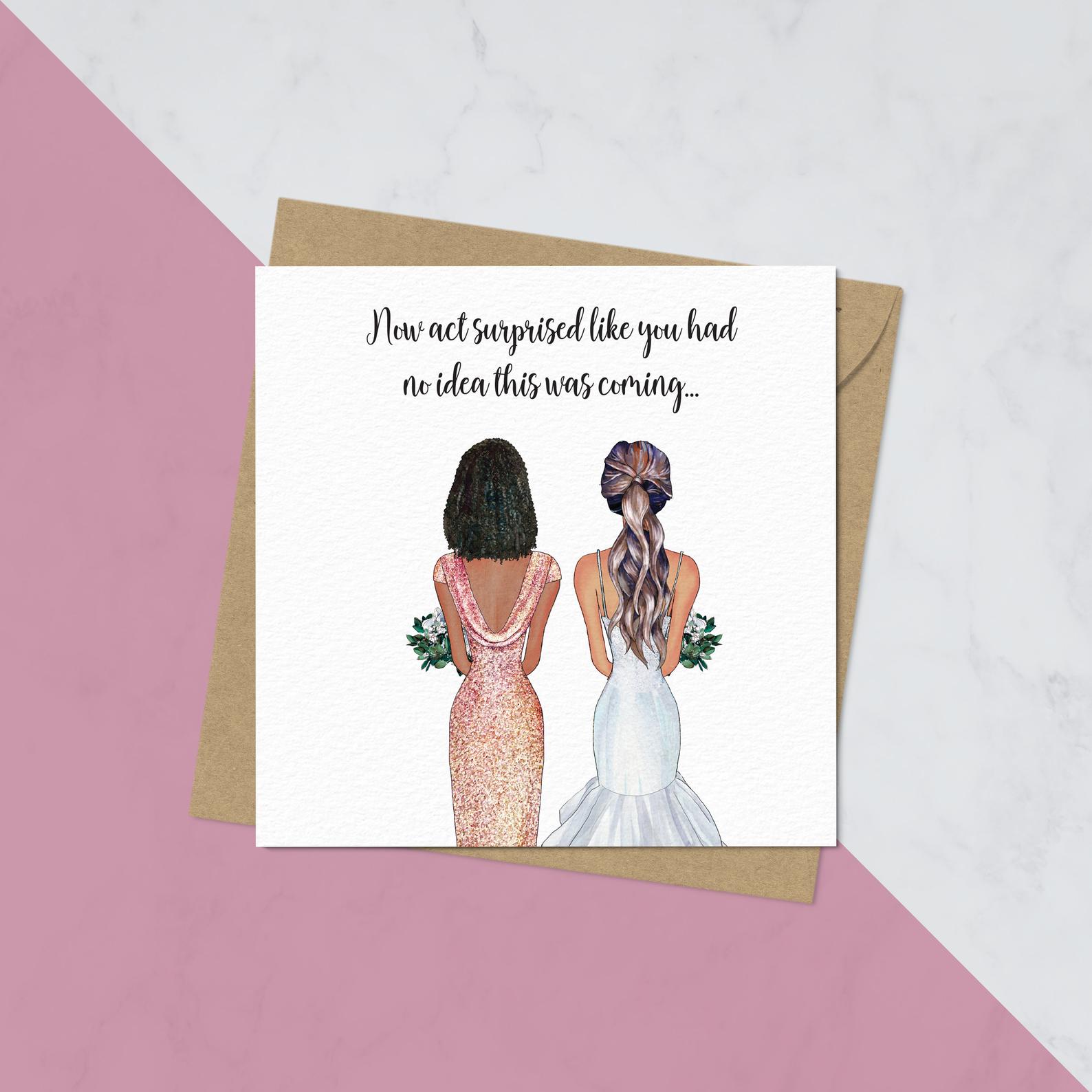 To wrap it up
You chose all your personalized bridesmaid proposal gifts? You might then need a box to wrap everything up!
NorabellaUK has, first of all, a beautiful selection of gift boxes and they also incorporated a little twist if you want to surprise your future bridesmaid! When she will open the box, she will see written: "Will you be my bridesmaid?"
A beautiful manner to ask her to be by your side for your special day.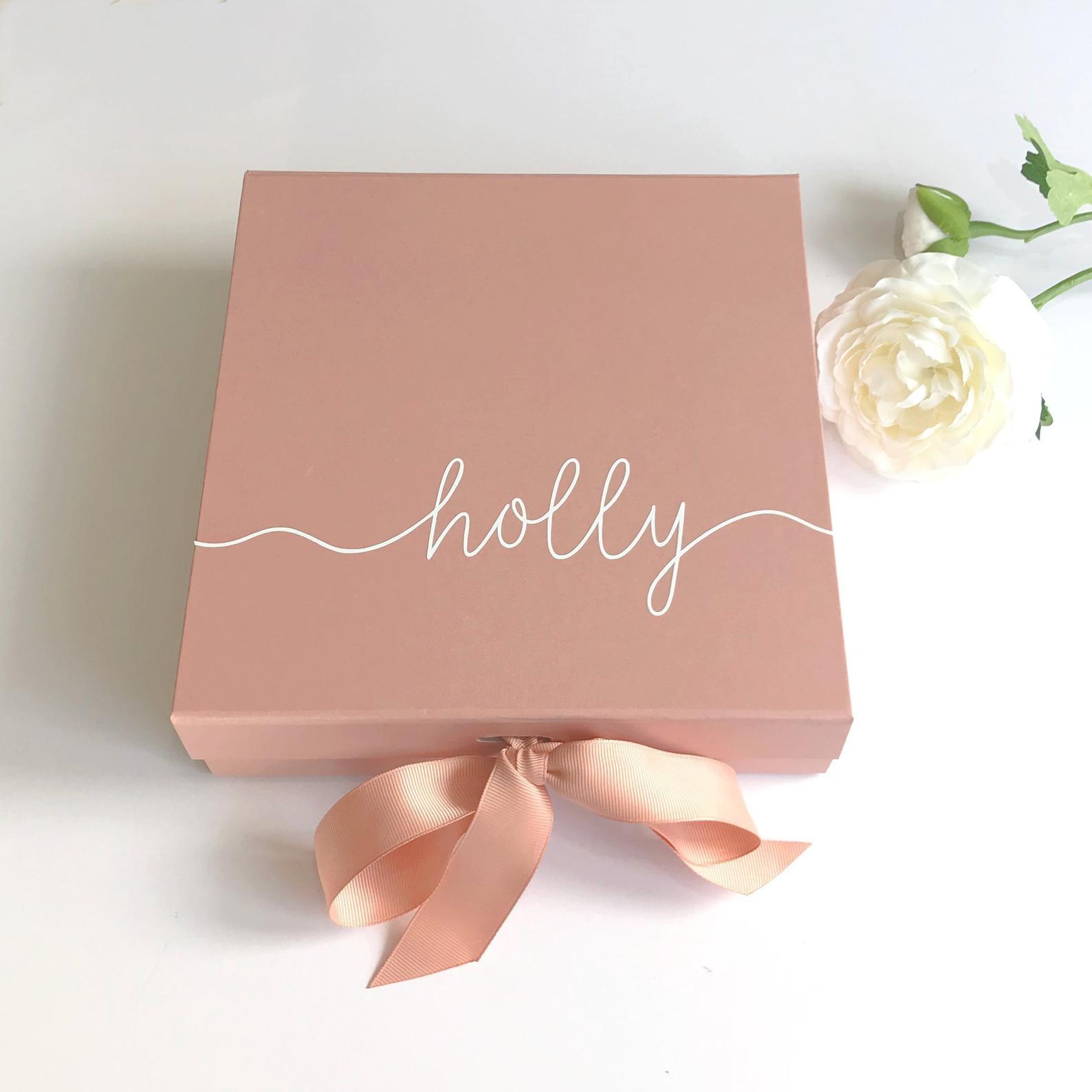 OhSoHer has a large selection of beautiful gift boxes so it was difficult to choose one! But this one looks so precious!
If you are looking for other gift boxes have a look at their boutique!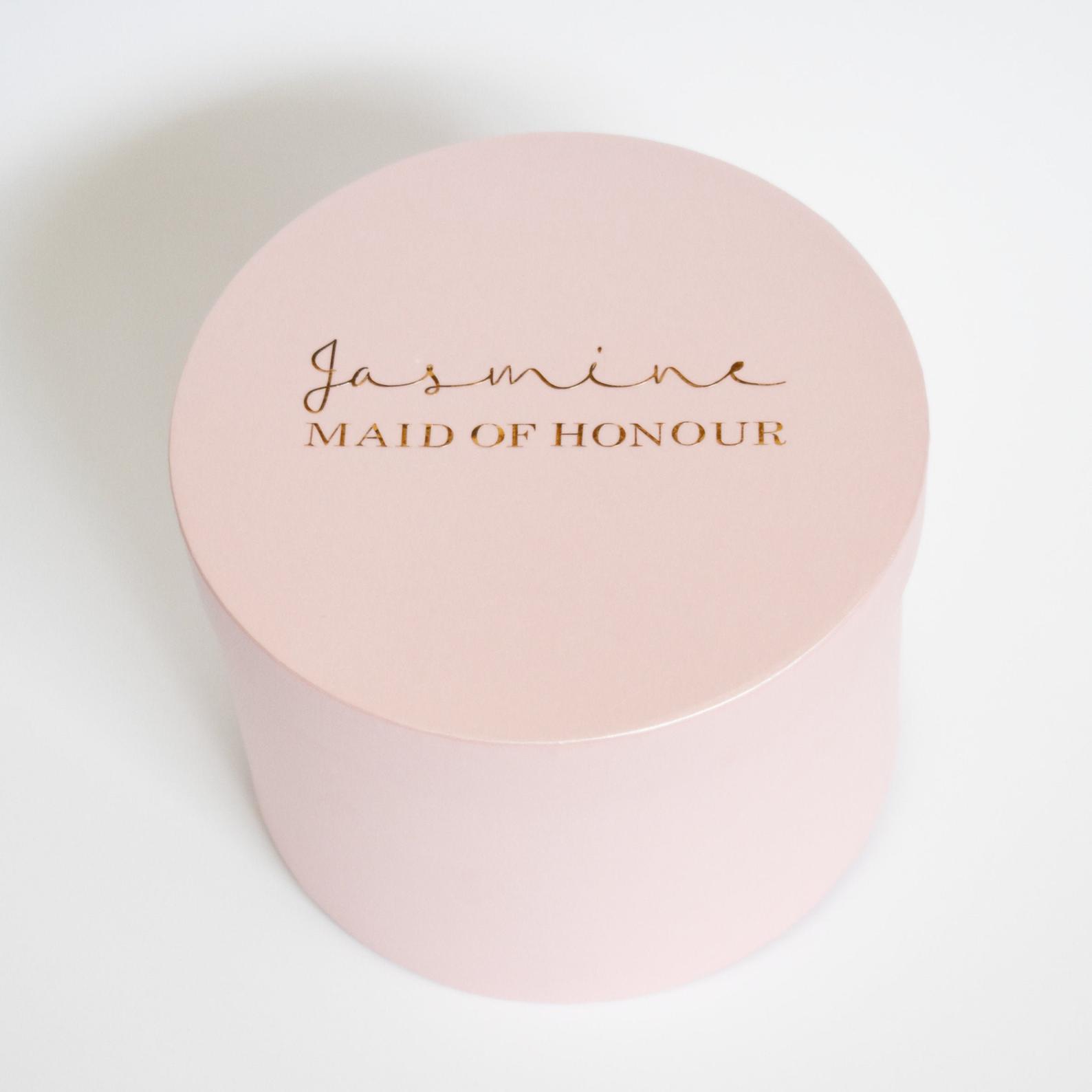 Advice: When choosing bridesmaid gifts, do not write down "bridesmaid" everywhere. If the gifts can be consumed like a candle, lollipop or wine no problem! But if it's a piece of clothes, for example, it might be much more difficult for them to wear it again. Same thing for a mirror, piece of luggage, etc…
So, if you have the choice, print or embroider their name or initials.

And you? You offered some gifts to your bridesmaids? Or you received gifts as a bridesmaid? Then what were these gifts?